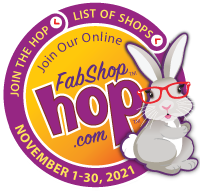 The November Fab Shop Hop Bunny is checking out The beautiful COLLECTION designed by Dan Morris that starts with an F and is 13 letters long! It's a beautiful floral ombre print and we carry 6 different colors of it.
Free pickup or delivery in Fairbanks, Alaska!
For delivery, chose In Store Pickup at checkout and put a note on your order.
No pick up or delivery available from 9/20 to 9/27.